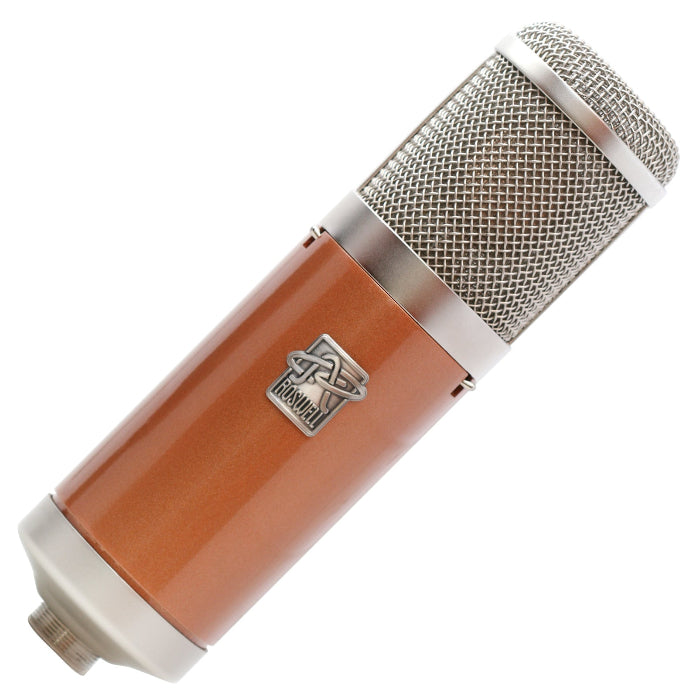 Colares • Boutique Vocal Condenser Microphone
$ 1,259.00
(MSRP $ 1,399.00)
The Colares® is a large-body condenser microphone with a larger than life sound. It is our flagship vocal microphone, and excels at injecting color, vibe, excitement, and life to a track.
This is not a neutral or transparent microphone. It is unapologetically rich in both tone and harmonics. The design inspiration was the Telefunken ElaM 251, but our goal was to deliver all the detail and vintage tone of the 251 without the cost, maintenance hassle, or noise floor of a tube microphone.
The Colares has two unique features: a pad/voicing switch, and a 3-way filter switch. Learn more about these in the "Features" tab of this page.
We build every Colares by hand in our shop in Northern California. Each mic is "burned in" for at least 24 hours on our proprietary conditioning rig, then extensively tested before the Roswell badge goes on the front of the mic. The mic ships in a custom, heavy-duty flight case, with our proprietary Cutaway™ shockmount.
We designed this mic to make your vocal recordings sound incredible. We have heard phenomenal results on a wide variety of other source material too, from bass cab to drum overheads. Thanks to its handcrafted circuit topology and uncompromising component selection, the Colares effortlessly delivers a harmonically rich, vintage sound.
We look forward to hearing the music you make with it!
A limited supply of Custom Shop colors are available via the menu above.
The classic Colares finish is Copper Metallic, based on a rare and collectible edition of the Chevrolet Corvette.

Features & Benefits
The circuit has very low noise, allowing your sources to be recorded without sonic artifacts.
The capsule captures exquisite detail and articulation.
The 10dB pad switch enables use with higher-volume sources.
The filter switch allows sculpting of the microphone's low-frequency response, to compensate for proximity effect.
The included Cutaway™ shockmount provides mechanical isolation.
Extensive, hands-on testing ensures that every Roswell microphone delivers high performance right out of the box.
The Pad/Voicing Switch
The mic's pad switch reduces signal at the input of the circuit, which creates two sonic effects:
Level reduction of 10dB.
Reduction of second harmonic content by 10–12dB.
If the Colares sounds too rich on a particular source, engage the pad switch and apply 10dB of makeup gain on your preamp. You'll hear a cleaner, more modern sound from the microphone.
Variable Bass Response Switch
In place of a common "high pass filter" switch, the Colares provides a 3-way switch to allow realtime sculpting of the low-frequency response. You can immediately roll off the lows to compensate for a bassy source or proximity effect, or increase the lows to allow for full frequency capture even on farther mic placements.
Pronounciation
"Colares" is pronounced /kə larˈ ĕs/ or /ko larˈ ĕs/. The emphasis is on the middle syllable, which rhymes with "far."
Specifications
| | |
| --- | --- |
| Model: | Colares |
| Acoustic Principle: | Pressure gradient transducer |
| Polar Pattern: | Cardioid |
| Capsule: | Select 34mm large-diaphragm, edge-terminated design |
| Diaphragm: | Gold-plated, ultra thin Mylar |
| Frequency Range: | 20 - 20,000 Hz |
| Sensitivity: | >35 mV/Pa |
| Impedance: | 200 Ohms |
| Signal-to-noise: | >82 dBA |
| Equivalent noise: | <12dBA |
| Supply voltage: | 48±4 VDC |
| Output: | Transformer balanced |
| Physical dimensions: | 208 × 60mm; 850g (mic only) |
Components
The Colares is made with the finest components in the world. We made no compromises in the design of this microphone.
The JFET is a NOS part, specially selected and individually "biased" using a custom test fixture. The critical audio output capacitor is a very large oil-filled polypropylene design with copper foil electrodes, selected for its detail and transparency within this circuit. Filter capacitors are our own custom made, Roswell branded electrolytics, which use a special formula electrolytic paste and deep foil etching; these are the best electrolytic capacitors for audio in the world.
Resistors are audiophile grade, 50ppm 1% tolerance parts from PRP, Vishay Dale, and a third supplier we're not willing to share. Switches are premium C&K parts rated for 90,000 uses (approximately 115 years of regular sessions ;). The output transformer is custom wound in the US specifically for this microphone.
Frequency Response
The Soundcloud player below contains audio samples. See also a collection of videos on our Colares Samples page.