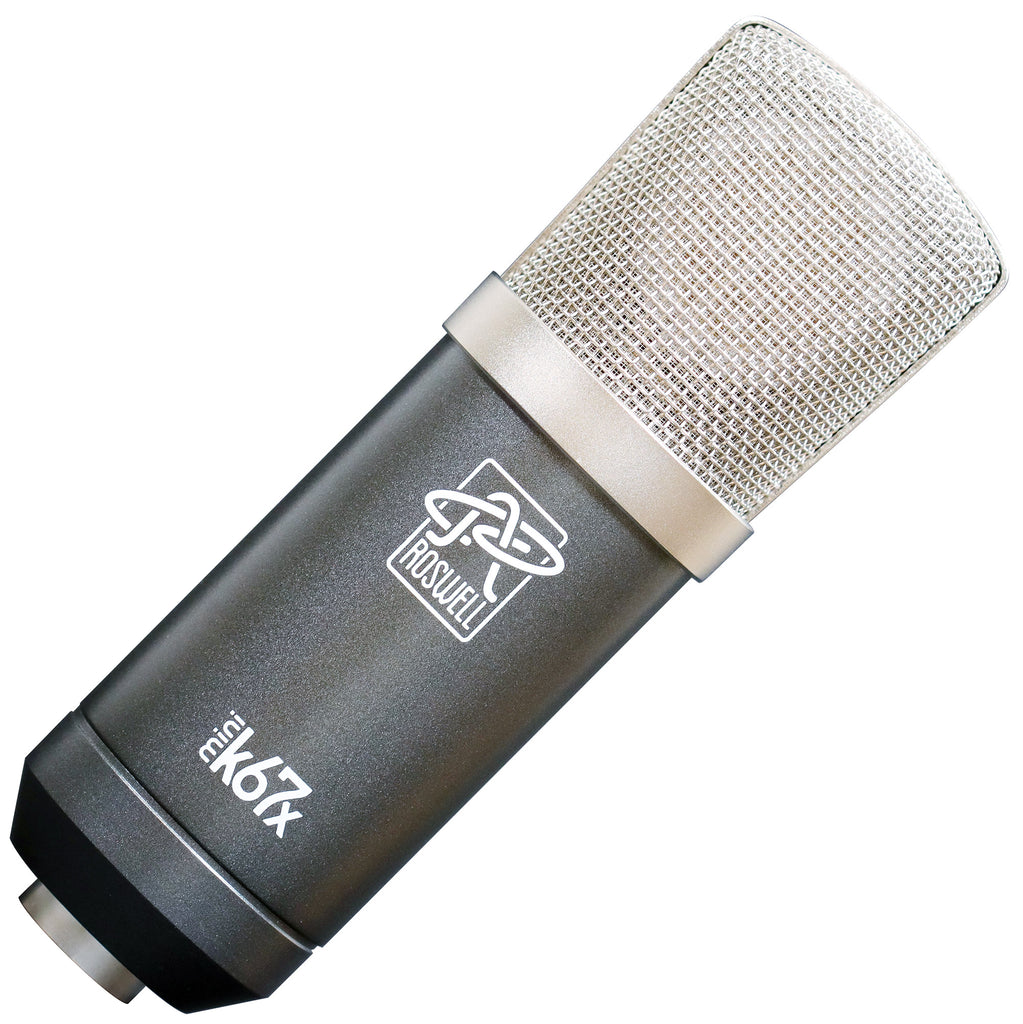 Mini K67x Condenser Microphone
The Mini K67x is a unique large-diaphragm condenser microphone, designed to excel on vocals and guitars.
Wideband frequency response with voice-friendly EQ and extended "air"/ambience
Harmonic saturation from transformer-coupled circuit
Includes our Cutaway shockmount and flight case
In stock for immediate shipment
The Mini K67x expands our promise of sonic diversity. The capsule voicing strikes a balance between neutrality and flattery, with tight bass and an open top end. The circuit enhances the source with harmonics. The mic retains the "point and shoot" simplicity of the Mini K lineup.

Like all Roswell microphones, the Mini K67x is designed, assembled, tested, and tuned in California.
Review Excerpt
A pair of these mics should be on your shortlist. The Roswell Pro Audio Mini K67x is one of those rare affordable, mid-priced mic options with a unique sound that performs well beyond its price bracket.

Paul Vnuk
Recording Magazine
(see full review here)
Customer Feedback for the Mini K67x
The guitar player's lead tone was bad, so I had him send me DI solos to reamp. I tried my normal mic selection, as well as the Mini K67x. It won by a landslide.
I have been using the K67x regularly on female and male R&B and Rock vocals and I am completely blown away. It sounds amazing and easily outperforms much more expensive mics we have in the school's locker.
I really like the color and weight it has. The color doesn't take away from the clarity. It is definitely my favorite Mini K for vocals.
We are loving the 67x. Put me down for three more!
Since getting my new K67x it has earned a place in the centre of my studio. It lives on the boom stand on my desk and I have not unplugged it since it arrived. Spoken word, sung vocals, guitar, acoustic bass guitar, banjo, mandolin, percussion, it makes them all sparkle and shine. 
Description
The mic's name, "K67x," refers both to the capsule design and circuit topology. The capsule is based on the K67, although we've built and voiced it with some proprietary tricks to create a sound unlike any other K67 capsule. The "x" in the model name refers to the transformer-coupled circuit, which gives the mic its trademark harmonic saturation. 
This combination introduces a new color to the Mini K product line. The mic is not overtly colored, like the Mini K47, nor is it quite as flat and neutral as the Mini K87. The sonic inspiration for this model was the workhorse tube mic of the 1960s, which offered wideband frequency response and harmonics. We kept those characteristics in this incarnation.

Every Roswell microphone is subjected to a 24-hr "burn in" on our proprietary conditioning fixture, then tested extensively prior to shipping: polarity, noise, frequency response, sensitivity, and more. We perform an acoustic sweep test and listen to every microphone multiple times before it leaves our facility.
The Mini K67x has a durable gray metallic paint finish. Each mic ships with our exclusive Cutaway™ shockmount, Roswell branded microfleece mic sock, and an upgraded flight case.
We offer Custom Shop variations on the Mini K67x. Select these options using the drop-down menus at the top of this page.
The standard production Mini K67 uses a dark gray, metallic sparkle finish. Custom powdercoat finishes are listed above; these options do not have a painted logo, but rather use the embossed, antiqued brass logo badge found on our Colares and Delphos II models.
Features
Proprietary 34mm capsule design
Vintage circuit design with custom output transformer
Hand-picked, audiophile-grade capacitors
Heavy, solid steel body with durable finish
Exclusive Cutaway™ non-resonant shockmount
Benefits
Wideband frequency response provides natural capture of many voices and instruments.
Harmonic saturation enhances the source, much like a tube microphone would.
Solid, high-quality construction ensures real-world durability and long service life.
Low self-noise keeps hiss out of your tracks.
Design and Component Details
The Mini K67x introduces two unique new sounds to the Mini K product line: the capsule voicing, and the harmonic saturation of the circuit.
The capsule is a 34mm (large diaphragm) design. As the mic's name suggests, the capsule is nominally a K67 type, but we invested two years' worth of research and development to create a proprietary, "Holy Grail" voicing: full bass without wooliness, slight attenuation in the sibilance range, neutral highs, and extended "air" above 10kHz.
The circuit design borrows from our flagship Colares microphone; it is a single-stage JFET/transformer topology, built around a selected vintage European-made output capacitor, the best-sounding modern filter capacitors on the market, and a custom wound output transformer (which barely fits inside the mic body).
The capacitor feeding the JFET is a critical component to the mic's sound. We've designed a custom bipolar electrolytic, with a special formulation of electrolyte that was initially developed for the legendary Black Gate line of capacitors.
Internal gain staging is carefully set for each individual mic to produce harmonic saturation at moderate SPL.  This allows the Mini K67x to evoke the sound of vintage tube microphones, creating harmonics to complement the source, although without adding noise or crushing transients the way some tube mics would.
| | |
| --- | --- |
| Model: | Mini K67x |
| Acoustic Principle: | Pressure gradient transducer |
| Polar Pattern: | Cardioid |
| Capsule: | 34mm O.D. True Condenser, proprietary K67 variation, dual backplate |
| Frequency Range: | 20 - 20,000 Hz |
| Sensitivity: | 12 mV/Pa |
| Impedance: | 200 Ohms |
| Signal-to-noise: | 81 dBA |
| Equivalent noise: | 13 dBA |
| Supply voltage: | 48±4 VDC |
| Output: | Transformer balanced |
| Physical dimensions: | 150 × 44mm; 380g (mic only) |