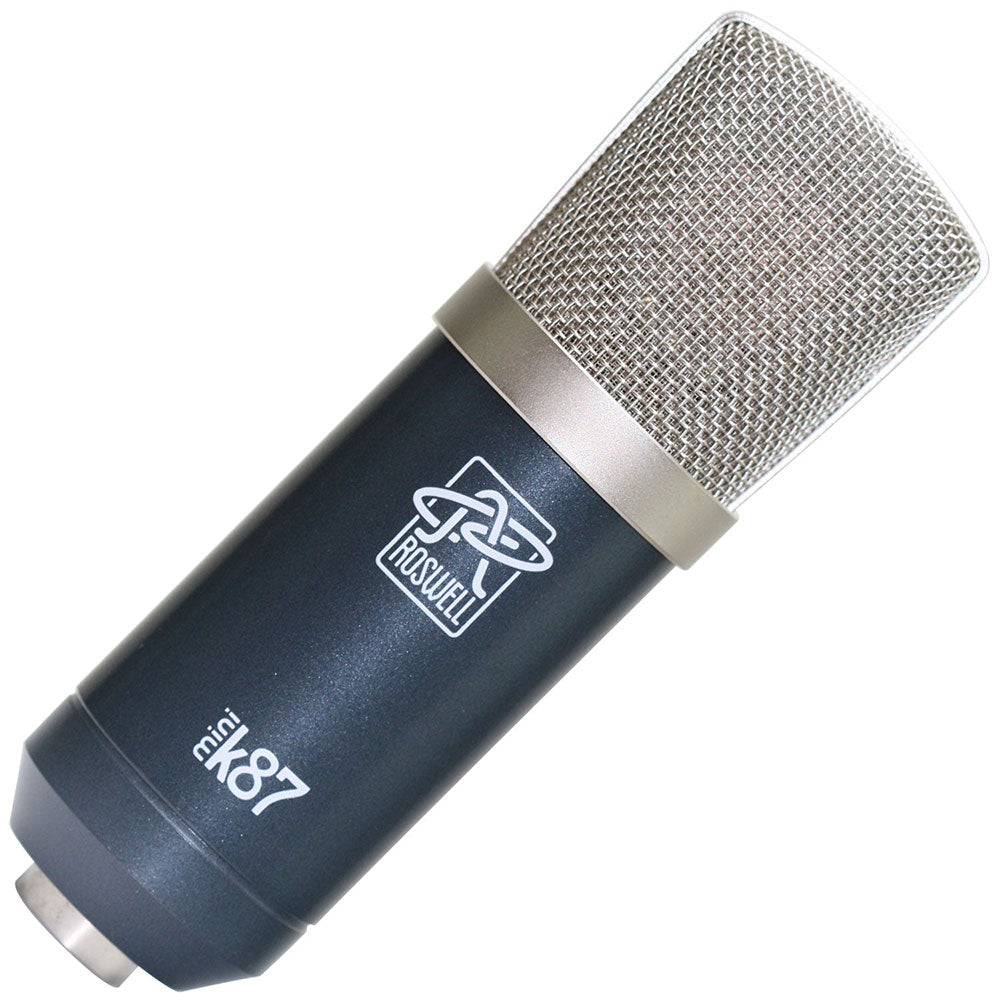 Mini K87 Condenser Microphone
Neutral voicing with full low-frequency response
Designed, assembled, and tested in California
Handpicked NOS audiophile components
Includes Cutaway™ shockmount and case
In stock for immediate shipment
The Mini K87 is a high-resolution condenser microphone with a neutral voicing. It aspires to transparency rather than color. Yet it retains enough character to capture and communicate the emotion of the source.
The mic's sound comes from a combination of a specially tuned K67/K87-style capsule and a circuit that we've designed to enhance and complement it. The final voicing of the microphone is a manual process that enables us to create a very consistent sound.
I didn't fully realize how much I was fighting against the brightness and sibilance of other mics until I worked with the more balanced and neutral Mini K87.

- Mini K87 customer
The Mini K87 excels on vocals (sung and spoken, including voiceover and podcasting), guitars, acoustic strings, and drum overheads.
We find that neutral microphones tend to be compatible with a wide range of sources, both instruments and vocals. Because the microphone is not trying to impose too much of its own sound on the source, the Mini K87 sounds good on many of them.
The Mini K87 goes through an extensive burn-in, QC, and audio testing process prior to shipping. This ensures that every microphone delivers superior performance out of the box.
Like all Roswell microphones, the Mini K87 is designed, assembled, tested, and tuned in California.
The Mini K87 ships with our exclusive Cutaway shockmount, Roswell branded microfleece mic sock, and an aluminum flight case.
Recording drum overheads or other stereo applications? Click for matched stereo pairs of the Mini K87.
We now offer Custom Shop variations on the Mini K87. Select these options using the drop-down menus above.
Circuit Options
The standard Mini K87 circuit is optimized for high dynamic range. It works well on sources from vocals to drum overheads, from piano to loud electric guitar cabinets. This is the best option for most audio engineers. This is the circuit that has earned all the superlative reviews you've seen about this mic.

If you only ever intend to record quiet acoustic sources, such as acoustic guitar, strings, vocals, voiceover, or ensembles, we can modify the circuit to provide a high output, high sensitivity design. These "High Output" microphones will not work well on loud sources such as drum overheads, horns, or amplified instruments. But they will deliver superior results on very quiet sources.
Conversely, if you expect to record extremely loud sources, we offer an attenuation option, controlled by a tiny switch inside the mic (accessed by unscrewing the bottom of the mic, no tools required). Most users would not need this feature; the Mini K87 has more than enough headroom for common studio recording. Contact us via email if you think your application would benefit from additional headroom.
Cosmetic Options
See the Custom Shop page for our selection of finish options. Some of these colors can be ordered using the drop-down menus above. Any colors (or grille options) not included in the menu can be requested via email.

Features
Large-diaphragm, 34mm K67/K87 style capsule
Ultra-thin gold plated diaphragm
Pristine transformerless circuit designed for transparency, low noise, low distortion
Audiophile-grade components throughout the signal path
Heavy, solid steel body
Cutaway™ elastic shockmount
Benefits
Natural, uncolored (essentially flat) frequency response
Takes EQ extremely well
Solid, high-quality construction
High sensitivity
Low self-noise and very low distortion
Modern performance with vintage tone
Component Details
We designed the Mini K87 to provide an all-purpose, do-anything microphone that doesn't impose its own will on the source -- but also does not sound cold or clinical. We have found that there can be a satisfying balance between neutrality and character. With this mic, it is possible to have transparency and good tone at the same time.
The sound of the Mini K87 starts with the capsule. It is a K67 type, with the historically correct dual backplate design and 34mm (large diaphragm) outside diameter. We designate it "K87" because we tune it to produce a different sound than other K67s. Comparing it to the Neumann K67 capsule, for example, our K87 has fuller bass and a more neutral top end.
Every K87 capsule is subjected to a frequency-response test on our proprietary acoustic sweep rig, before installation into the microphone. We select capsules to match a strict response curve, both to ensure consistency from one Mini K87 to the next, and to achieve the tonal balance for which this mic is known.
The Mini K87 circuit was designed to maintain the careful, intentional tonal balance that gives this mic its reason to exist. We have found, over many years' worth of listening tests, that the type of components used in a microphone circuit can dramatically affect the sound of the mic. Applying that experience here, we chose a specific formulation of resistor that maintains the transparency we need without becoming edgy or harsh. We complemented that with imported (European) film capacitors in the signal path, and a special copper-foil capacitor within the output circuit.
The output transistors are vintage parts, no longer made but stockpiled here for future generations of Roswell mics.
These audio circuits are populated by hand, and "wave soldered" in small batches. It is probably not cost-effective for us to do this work in California, but we're a company of audio nerds, not accountants, and we define success by exceeding the expectations of fellow audio nerds, so we do all this work in California anyway. That's the best way for us to deliver consistently great products.
| | |
| --- | --- |
| Model: | Mini K87 |
| Acoustic Principle: | Pressure gradient transducer |
| Polar Pattern: | Cardioid |
| Capsule: | Large diaphragm, 34mm O.D. True Condenser, K67/K87 style |
| Diaphragm: | Imported Mylar, center terminated |
| Frequency Range: | 20 - 20,000 Hz |
| Sensitivity: | 14 mV/Pa |
| Impedance: | 112 Ohms |
| Signal-to-noise: | 82 dBA |
| Equivalent noise: | 12 dBA |
| Supply voltage: | 48±4 VDC |
| Output: | Electronically balanced (transformerless) |
| Physical dimensions: | 150 × 44mm; 325g (mic only) |
Frequency Response